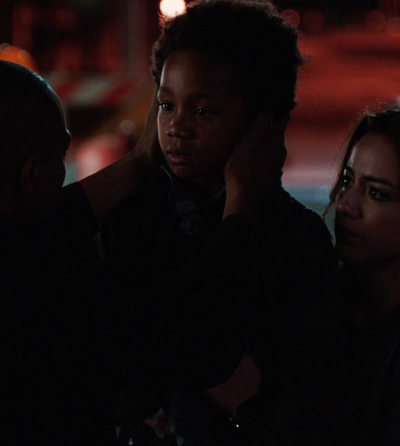 Ace Peterson 
est le fils de
Michael Peterson
 ainsi qu'un grand fan des
Vengeurs
. Durant son enfance, il vécut avec son père et sa mère jusqu'à ce que celle-ci l'abandonne après le congédiement de
Mike
. Malgré tout, il surmonta cette épreuve et se rapprocha davantage de son père. Quelques mois plus tard, il se rendit devant la vitrine d'un magasin de jouets pour acheter une figurine des
Vengeurs
. Cependant,
Mike
lui indiqua que leur situation financière les limitaient alors
Ace
décida d'acheter celle de
Hulk
. Au même moment, un explosion surgit du bâtiment d'en face et
Ace
apercut son père partir à la rescousse des rescapés pour ensuite resurgir avec une
femme
dans les bras. Peu après, alors que son père tentait de s'échapper du
S.H.I.E.L.D.
, il kidnappa
Ace
et
Skye
 pour les emmener à une station. Cependant,
Ace
réussit à s'échapper avec
Skye
et fut sauvé par l'
Agent Phil Coulson
. Ensuite, il fut emmenée chez sa tante
Mindy
 pour une période indéterminée. Malgré tout, il resta en contact régulier avec son père tout en s'amusant avec sa cousine
Kisha
.   Il fut bouleversé lorsqu'il apprit la mort de son père, mais à l'insu de tout le monde, le
Groupe Centipede
 a simulé sa mort pour ainsi s'en servir comme un arme contre les forces du monde, y compris le
S.H.I.E.L.D.
.
Ad blocker interference detected!
Wikia is a free-to-use site that makes money from advertising. We have a modified experience for viewers using ad blockers

Wikia is not accessible if you've made further modifications. Remove the custom ad blocker rule(s) and the page will load as expected.