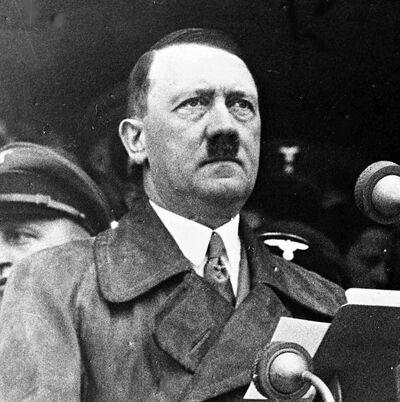 Adolf Hitler (Führer), 
né le 20 avril 1889 à Braunau am Inn en Autriche. Il était un dictateur, politicien, ancien soldat allemand. Il était l'adversaire principal lors de la Deuxième Guerre Mondiale. C'est d'ailleur lui le fondateur du Nazisme. Il est aussi réputé pour ses actes racistes, xénophobes et homophobes ainsi que d'une répulsion intense envers les juifs. Son idéal était d'être le maître du monde et d'établir une population allemande parfaite. Totalement coupé de la réalité, oscillant entre l'espoir chimérique d'une victoire sur l'
Armée
rouge
et des pulsions autodestructrices, il assista, impuissant, à la 
prise de la capitale 
par les forces soviétiques et à la trahison de certains de ses proches, avant de décider de mettre fin à ses jours. La cause généralement acceptée de la mort d'Adolf Hitler, le 30 avril 1945, est le suicide par balle, son épouse Eva Braun s'étant empoisonnée au cyanure. Les circonstances exactes du suicide du
Führer
, l'identification et le sort réservé à sa dépouille restent cependant controversés.
Ad blocker interference detected!
Wikia is a free-to-use site that makes money from advertising. We have a modified experience for viewers using ad blockers

Wikia is not accessible if you've made further modifications. Remove the custom ad blocker rule(s) and the page will load as expected.