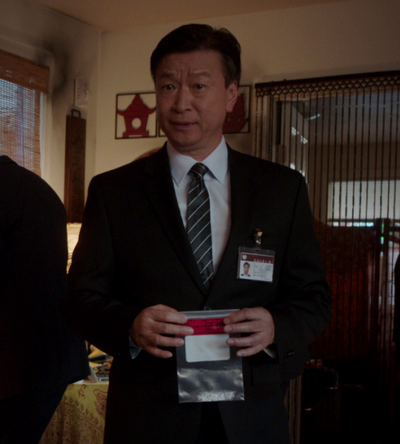 L'Agent Kwan Chen
était un père de famille ainsi qu'un agent du
S.H.I.E.L.D.
 basé à
Hong Kong
 ayant été assigné en tant que travailleur social pour
Chan Ho Yin
. Lorsque
Chan
fut kidnappé par une
organisation mystérieuse
 qui a cherché à l'utiliser pour avancer dans leur cause,
Kwan
contacta l'
Agent Phil Coulson
 pour lui servir de renfort.
Kwan
,
Coulson
et
Melinda May
 ont prit d'assaut le laboratoire où
Mr. Yin
était captif et l'ont libéré. Cependant,
Chan
était fatigué que le
S.H.I.E.L.D.
insiste à ce point sur le fait de cacher ses habiletées. Il utilisa donc ses pouvoirs pour graver un trou dans le coeur de l'
Agent Chen
, le tuant sur le coup.
Ad blocker interference detected!
Wikia is a free-to-use site that makes money from advertising. We have a modified experience for viewers using ad blockers

Wikia is not accessible if you've made further modifications. Remove the custom ad blocker rule(s) and the page will load as expected.