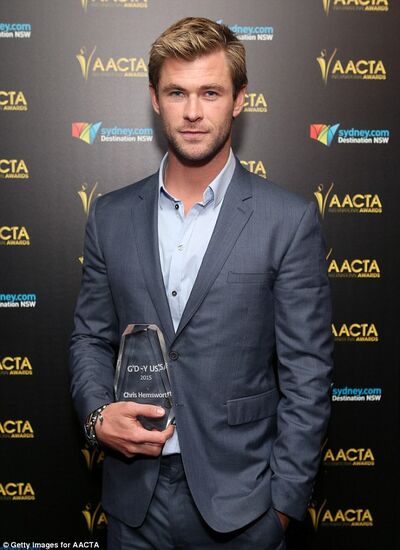 Chris Hemsworth
est un acteur australien né le 11 août 1983 à Melbourne dans l'état de Victoria. Il est l'interprète de
Thor
 dans
Thor
,
Les Avengers : Le Film
,
Thor: Un Monde Obscur
,
Les Avengers: L'Age d'Ultron
, 
Docteur Strange
et
Thor: Ragnarök
.
Rôles Marquants
Edit
Le Chasseur dans Le Chasseur et la Reine des glaces (2016).
Capitaine Owen Chase dans Au coeur de l'océan (2015).
Stone Crandall dans Bonjour les vacances (2015).
Nicholas Hathaway dans Chapeau noir (2015).
James Hunt dans Rush (2013).
George Kirk dans Star Trek vers les ténèbres (2013).
Jed Eckert dans L'Aube rouge (2012).
Le Chasseur dans Blanche Neige et le Chasseur (2012).
Curt Vaughan dans La Cabane dans les bois (2012).
Sam Phelan dans La dette (2010).
Kale dans Un paradis d'enfer (2009).
George Kirk dans Star Trek (2009).
Section heading
Edit
Write the second section of your page here.
Ad blocker interference detected!
Wikia is a free-to-use site that makes money from advertising. We have a modified experience for viewers using ad blockers

Wikia is not accessible if you've made further modifications. Remove the custom ad blocker rule(s) and the page will load as expected.