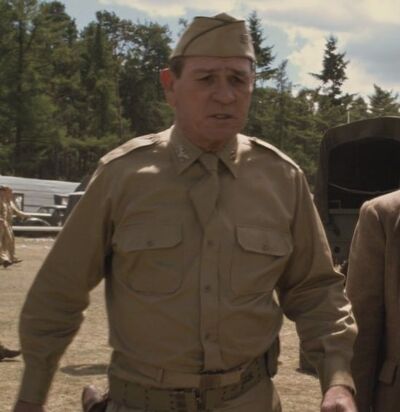 Le Colonel Chester Richard Phillips
 était un colonel de l'
Armée des États-Unis
 ainsi que l'officier en commande d'un
projet secret
de la
RSS
. Il fut le chef du 
Camp Lehigh
 et entraîna des soldats dont 
Gilmore Hodge
 à devenir des candidats potentiels pour son projet. Cependant, le 
Dr. Abraham Erskine
 lui présenta 
Steve Rogers
 et lui affirma qu'il s'agissait du parfait spécimen. Malgré sa propre réticence, il décida d'écouter
Erskine
et sélectionna
Rogers
pour le projet. Cependant, lors de la procédure,
Erskine
fut tué par 
Heinz Kruger
 de l'
HYDRA
 qui s'enfuit après avoir volé un
échantillon
. Plus tard,
Phillips
décida d'abandonner
Rogers
et de le confier à l'
USO
. Malgré tout, lorsqu'un énorme peloton de 400 soldats dont
Bucky Barnes
furent capturés,
Rogers
se porta volontaire pour les secourir. C'est alors que
Phillips
accepta et envoya 
Howard Stark
 et 
Peggy Carter
 pour l'accompagner. Peu après, il fut surpris d'apprendre que
Steve
avait survécut à l'extraction et le promut capitaine. Par la suite, il aida celui-ci à se rapprocher de la 
Valkyrie
 pour y pénétrer et tuer le 
Crâne Rouge
. Après l'avoir escorté, il se rendit dans une salle de commandes pour le diriger via contact radio mais fut impuissant pour le secourir. En 1946, après que
Peggy Carter
réussit à résoudre le mystère du 
Zodiaque
, lui et
Stark
la recruta au sein du 
S.H.I.E.L.D.
.
Section heading
Edit
Write the first section of your page here.
Section heading
Edit
Write the second section of your page here.