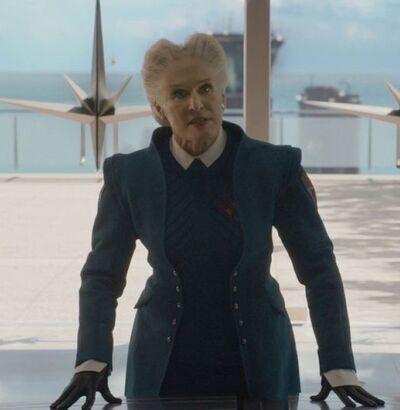 Le Commandant Irani Rael est la chef des Nova Corps ainsi qu'une résidente de Xandar. Durant sa vie, elle fut recrutée au sein des Corps et devint Nova Prime après plusieurs années de service. Après avoir formée un traité de paix avec les Krees, elle contacta leur ambassadeur pour le persuader de condamner Ronan l'Accusateur pour le massacre de plusieurs Xandariens. Cependant, l'ambassadeur refusa par crainte et raccrocha. Par la suite, elle fut approchée par Saal qui l'informa qu'ils avaient arrêtés Gamora, la fille de Thanos. Plus tard, les Gardiens de la Galaxie et les Ravageurs arrivèrent à Xandar et Star-Lord informa les Nova Corps que Ronan était en route pour détruire leur planète et qu'ils nécéssitaient leur aide. Par la suite, elle consulta Rhomann Dey et finit par accepter leur aide face à Ronan. Après la bataille, elle promut Dey au rang de Denarian et enferma le Globe dans un coffre-fort.
Ad blocker interference detected!
Wikia is a free-to-use site that makes money from advertising. We have a modified experience for viewers using ad blockers

Wikia is not accessible if you've made further modifications. Remove the custom ad blocker rule(s) and the page will load as expected.