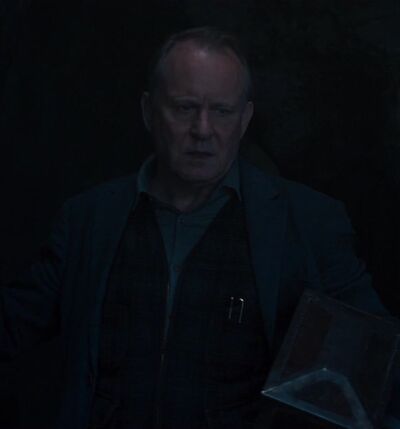 Le Dr. Erik Selvig
 est un astrophysicien. Il est le professeur de 
Jane Foster
 et de
Darcy Lewis
. Le
Dr.
Selvig
était un professeur d'astrophysique théorique à l'
Université Culver
, là où il a gardé plusieurs de ses notes. Ils furent tous confisquées par le
S.H.I.E.L.D.
, mais lui fut redonnées après avoir été engagé par eux pour analyser le
Tesseract
, pendant ses travaux,
Loki
 débarqua et l'envoûta lui et l'
Agent Barton
 pour ensuite s'enfuir avec le
cube
. Le prenant comme son singe volant personnel, il a lui même confectionné le système de protection de l'engin qui laissera entrer les
Chitauris
 sur terre. Mais fut sauvé à temps par la 
Veuve Noire
 pour fermer le portail. Deux ans après, il fut trouvé à
Stonehenge
 en-train de courir tout-nu avec des appareils scientifiques dans les bras. Il fut tout-de-suite conduit à un centre psychiatrique jusqu'a son rétablissement psychiologique. Il fut libéré par
Darcy
et
Ian Boothby
 pour qu'ils puissent les aider eux et
Thor
 de coincer
Malékith
 et de mettre fin à la
Convergence
. Quelques mois plus tard, alors qu'il sortait de l'université, il recut la visite de
Thor
qui le questionna sur ses visions et se rendit avec lui dans un temple mystique pour en apprendre davantage. Plus tard, il fut contacté par le 
Colonel Nick Fury
 et se rendit en 
Sokovie
 pour l'aider à évacuer les civils. Après la défaite d'
Ultron
, il fut engagé par 
Tony Stark
 et commenca à travailler au sein de l'
Académie des Vengeurs
.
Ad blocker interference detected!
Wikia is a free-to-use site that makes money from advertising. We have a modified experience for viewers using ad blockers

Wikia is not accessible if you've made further modifications. Remove the custom ad blocker rule(s) and the page will load as expected.