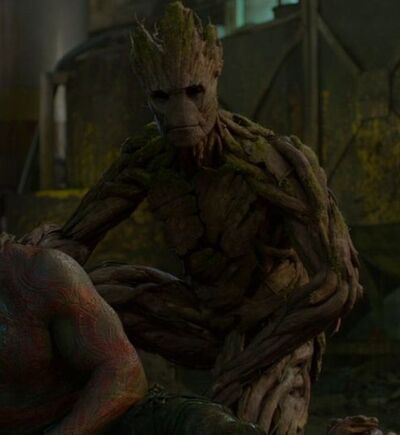 Groot 
est un monstre végétal extraterrestre de la race des 
Flora Colossus
 ainsi qu'un complice de 
Rocket Raccoon
. Natif de la planète 
X
, il fut un jour trouvé par
Rocket
et devint son associé dans diverses aventures dont une au 
Pivot
 où le duo a délivré une famille de 
Scallusques
 de l'emprise du criminel 
Zade Scraggot
 qui désirait utiliser leur carapace pour sa salle de bain. Cependant,
Groot
et
Rocket
furent initialement engagés par 
Sqqd'li
, sous les ordres de son employeur qui se trouve justement à être
Scraggot
. Après avoir appris leurs intentions, ils décidèrent de les sauver pour de bon du criminel. Peu après, lui et
Rocke
t furent capturés sur 
Xandar
 par les 
Nova Corps
 après une tentative de dérober le 
Globe
 à 
Star-Lord
 et furent emmenés au 
Kyln
 pour détention. Là bas, il s'allia avec
Quill
, 
Gamora
 et 
Drax le Destructeur
 pour s'y échapper et ils devinrent les 
Gardiens de la Galaxie
. Plus tard, durant la bataille contre 
Ronan l'Accusateur
 et ses 
hommes
,
Groot
réalisa qu'il était nécéssaire de se sacrifier pour permettre aux autres de survivre à la chute de l'
Astre Noir
, c'est alors qu'il forma un bouclier sphérique avec ses racines dans le but d'encercler les autres
Gardiens
et fut fracassé en plusieurs morceaux pendant la procédure. Cependant, il fut ramené à la vie dû à ses pouvoirs de regénération et fut placé dans un pot.
Ad blocker interference detected!
Wikia is a free-to-use site that makes money from advertising. We have a modified experience for viewers using ad blockers

Wikia is not accessible if you've made further modifications. Remove the custom ad blocker rule(s) and the page will load as expected.