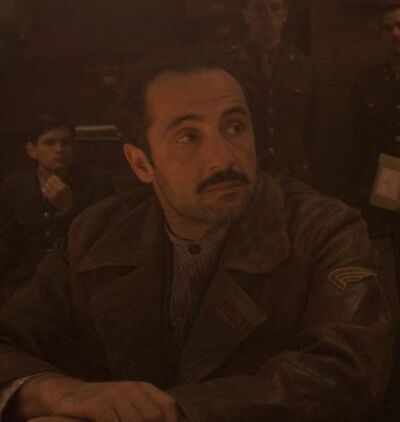 Jacques Dernier était un soldat francais allié ainsi qu'un membre des Commandos Hurlants. Il fut libéré par le Capitaine America lors d'un assaut sur une base de l'HYDRA. Une fois libéré, il saisit une arme et aida Gabe Jones, Dum Dum Dugan et Jim Morita a liquider leurs oppresseurs. Un peu plus tard, il rejoignit la Réserve Stratégique Scientifique Militaire pour aider à élaborer un plan visant à dissoudre l'HYDRA en neutralisant son chef, ce qui se passa pas tout à fait comme convenu car le Capitaine, à bord de la Valkyrie, s'est sacrifié pour sauver l'humanité en s'échouant dans le nord. Dernier fut de ceux qui prirent l'initiative de l'honorer en buvant un verre à sa santé.
Section heading
Edit
Write the first section of your page here.
Section heading
Edit
Write the second section of your page here.
Ad blocker interference detected!
Wikia is a free-to-use site that makes money from advertising. We have a modified experience for viewers using ad blockers

Wikia is not accessible if you've made further modifications. Remove the custom ad blocker rule(s) and the page will load as expected.