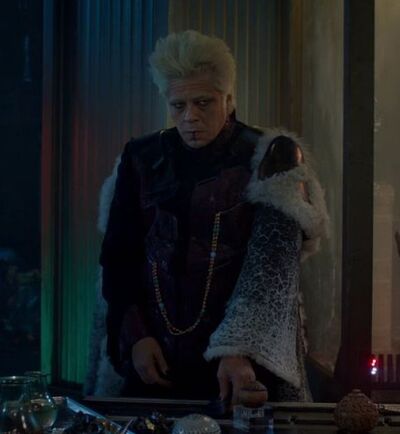 Taneleer Tivan
est l'un des
Anciens de l'Univers
 ainsi qu'un fanatique cleptomane. Il lui fut donné ce surnom à cause des nombreux artéfacts accumulés dans son
musée
. Un beau jour, il recut la visite de
Sif
et
Volstagg
 venus d'
Asgard
 pour lui remettre l'
Éther
 ayant été recouvert par 
Thor
 après avoir vaincut 
Malékith le Maudit
. Désormais en possession d'une 
Pierre de l'Infini
,
Tivan
s'embarqua dans une quête pour tous les obtenir. C'est alors qu'il recruta l'aide de 
Gamora
 et lui demanda de lui rapporter le 
Globe
. Celle-ci accomplit sa mission et retourna à son musée peu après avec ses nouveaux
camarades
. Avec le
Globe
maintenant en sa possession,
Tivan
commenca a leur donner une analyse cryptique de l'objet, expliquant ses origines ainsi que ses pouvoirs. Cependant, avant que sa démonstration se continue, 
Knowhere
 ainsi que son musée fut attaqué par 
Ronan l'Accusateur
, ce qui motiva 
Carina
 à tenter de contrôler son pouvoir pour ensuite exploser et causer davantage de dégâts et tuant plusieurs spécimens. Plus tard, avec son musée complètement en ruine,
Tivan
ayant survécut, s'assit sur un banc et commenca à boire, seulement pour être rejoint par 
Cosmo
 et moqué par 
Howard le Canard
.
Ad blocker interference detected!
Wikia is a free-to-use site that makes money from advertising. We have a modified experience for viewers using ad blockers

Wikia is not accessible if you've made further modifications. Remove the custom ad blocker rule(s) and the page will load as expected.