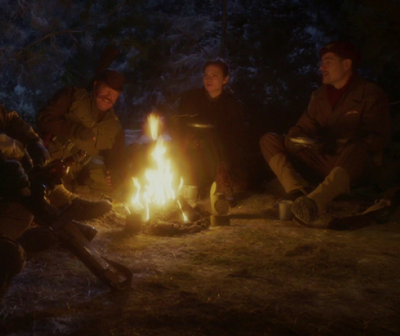 Les Commandos Hurlants furent un unité de combat d'élite active durant la Deuxième Guerre Mondiale. Un jour, alors que le Capitaine America se rendit en Europe pour prendre d'assaut une base de l'HYDRA, il libéra plusieurs prisonniers de guerre avec qui il s'enfuit en Amérique pour stratégie. De retour aux quartiers de la RSS, Rogers décica de choisir ses homme pour le seconder dans ses missions. Un jour, ils s'en prirent au Schnellzug EB912 pour capturer le Dr. Arnim Zola mais perdirent Bucky Barnes durant l'opération. Plus tard, avec l'aide du Colonel Chester Phillips, ils s'attaquèrent au Crâne Rouge pour l'éviter d'anéantir le monde. Malgré avoir réussit, ils perdirent le Capitaine America au combat lorsque celui-ci s'immergea dans l'océan avec la Valkyrie. De retour aux États-Unis, ils décidèrent de boire à sa santé. Après la guerre, Dum Dum Dugan, Jim Morita et d'autres assistèrent Peggy Carter en Autriche pour arrêter Werner Reinhardt. Cela fait, ils prirent l'initiative d'emporter ses caisses d'armement et rapportèrent l'Obélisque en lieux sûrs. Par la suite, Dugan fut appelé et recruté par Howard Stark pour rejoindre le S.H.I.E.L.D.. Après leur mort, ils furent honorés à travers une exposition locale au Musée Smithsonian de Washington, D.C. dont Rogers visita lui même après s'être réveillé.
Section heading
Edit
Write the second section of your page here.
Ad blocker interference detected!
Wikia is a free-to-use site that makes money from advertising. We have a modified experience for viewers using ad blockers

Wikia is not accessible if you've made further modifications. Remove the custom ad blocker rule(s) and the page will load as expected.