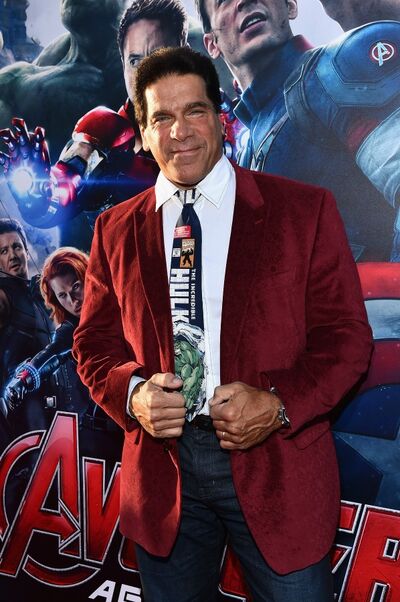 Louis Jude Ferrigno est un culturiste et acteur américain né le 9 novembre 1951 à Brooklyn aux États-Unis. Il est l'interprète de la voix de Hulk dans Les Avengers : Le Film et Les Avengers: L'Age d'Ultron.
Roles Marquants
Edit
Lui-même dans J't'aime mon homme (2009).
Variés dans Chuck (2009).
Député Cletus Senior dans Reno 911, n'appelez pas ! (2004).
Un vigile dans Hulk (2003).
Hulk dans La Mort de l'Incroyable Hulk (1990).
Hulk dans Le Procès de l'Incroyable Hulk (1989).
Billy Thomas dans Cage (1989).
Hulk dans Le Retour de l'Incroyable Hulk (1988).
Hercule dans Les Aventures d'Hercule (1985).
Hercule dans Hercule (1983).
Hulk dans L'Incroyable Hulk (1977-1997).
Section heading
Edit
Write the second section of your page here.
Ad blocker interference detected!
Wikia is a free-to-use site that makes money from advertising. We have a modified experience for viewers using ad blockers

Wikia is not accessible if you've made further modifications. Remove the custom ad blocker rule(s) and the page will load as expected.