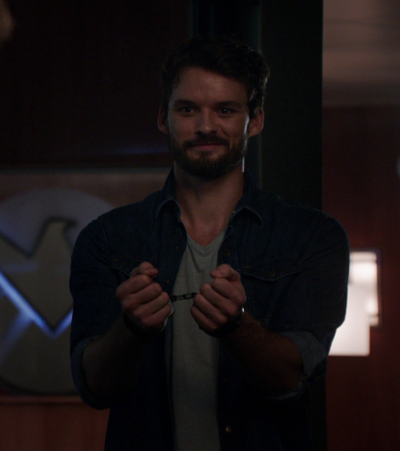 Miles Lydon
 est un hacker professionnel et réputé issu du groupe
Rising Tide
. À un moment précis de sa vie, il réussit à pirater le 
Kremlin
 et de retrouver des photos embarrasantes de 
Vladimir Poutine
. Un beau jour,
Lydon
développa une relation amoureuse avec sa
collègue
 et lui montra diverses techniques pouvant l'aider à retrouver ses parents. Lorsque celle-ci infiltra le 
S.H.I.E.L.D.
 pour en savoir davantage sur ses origines,
Lydon
resta en contacte avec elle mais lorsque l'un de ses hacks attira l'attention du
S.H.I.E.L.D.
,
Skye
alla le rejoindre à son appartement d'
Austin
pour le persuader que le
S.H.I.E.L.D.
était moins monstrueux qu'il n'y paraissait. Cependant, après une brève interlude amoureuse, ils furent retrouvés et détenus par
Melinda May
. Maintenant à bord du
Bus
pour interrogation,
Lydon
avoua à l'
équipe
qu'il avait accepté le paiement d'un million de dollars d'une
femme mystérieuse
contre des informations ayant étés utilisées par
ses employeurs
pour mettre en danger la vie d'un
homme
. Plus tard, il aida l'
Agent Phil Coulson
après l'échec de sa mission d'extraction, il lui fut par la suite offert un choix, une cellule ou un
Bracelet de localisation
qui l'empêcherait d'utiliser de l'équipement électronique. Il fut par la suite laissé à
Hong Kong
sans argent et sans moyen de retourner chez lui.  
Section heading
Edit
Write the first section of your page here.
Section heading
Edit
Write the second section of your page here.
Ad blocker interference detected!
Wikia is a free-to-use site that makes money from advertising. We have a modified experience for viewers using ad blockers

Wikia is not accessible if you've made further modifications. Remove the custom ad blocker rule(s) and the page will load as expected.