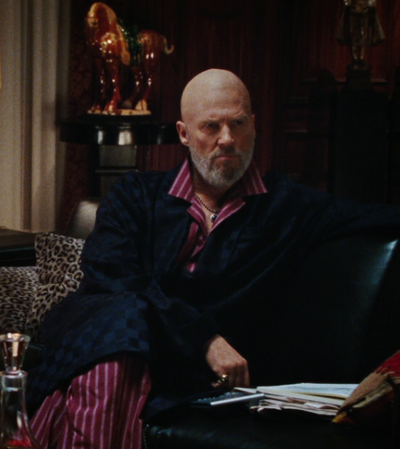 Obadiah Stane était le partenaire d'affaires et éventuel ennemi de Tony Stark. Durant son jeune temps, il travailla fréquemment avec Howard Stark au tout début de Stark Industries. Après la mort de celui-ci, il fut désigné en tant que PDG mais perdit rapidement son poste lorsque Tony atteint la majorité. Peu après, il s'allia aux Dix Anneaux en Afghanistan et leur demanda de tuer Stark pour qu'il puisse reprendre contrôle de la filiale. Un jour, alors qu'il se trouvait au Caesar's Palace, il s'apercut que Tony n'était pas là pour recevoir son prix et fut désigné d'office pour le prendre en charge et faire un discours. Plus tard, lorsque celui-ci présentait son Missile Jericho aux Forces Armées Américaines, Stane l'appela pour se renseigner sur la présentation et ordonna peu après aux Dix Anneaux d'attaquer son convoi et le capturer. Lorsque Tony revint en Amérique, Stane fut surpris de voir qu'il avait été épargné et décida malgré lui de le supporter dans sa guérison. Ensuite, il s'empara de ses actions et retenta la prise sur Stark Industries. Plus tard, il fut appelé par Raza qui lui offra encore de faire affaires avec lui en lui désignant une armure en guise de monnaie d'échange. Après cette discussion, il paralysa Raza avec son dispositif et lui fit assassiner par ses hommes. Alors qu'il travaillait sur sa propre armure, il se rendit compte que sa technologie était obsolète et qu'il devait se servir du Réacteur Arc de Tony pour faire fonctionner son armure. Alors que le S.H.I.E.L.D. se lanca à ses trousses après avoir été dénoncé par Pepper Potts, il s'empressa d'enfiler son armure. Après un combat violent dans les rues de Los Angeles avec Iron Man, il se fit électrocuté par l'explosion du réacteur et tomba de l'édifice, ce qui le tua.
Ad blocker interference detected!
Wikia is a free-to-use site that makes money from advertising. We have a modified experience for viewers using ad blockers

Wikia is not accessible if you've made further modifications. Remove the custom ad blocker rule(s) and the page will load as expected.