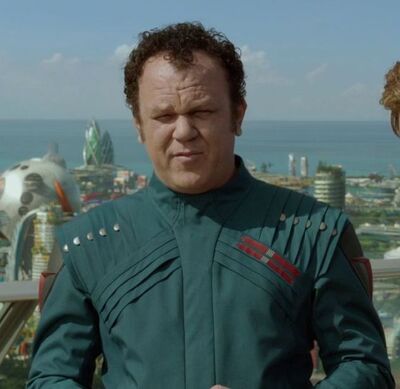 Rhomann Dey 
est un membre des
Nova Corps
 ainsi qu'un résident de 
Xandar
. Durant sa vie, il épousa 
Karman-Kan
 et eût
deux
filles
avec elle. Durant sa carrière, il parvint à obtenir le rang de
Millenian
. Un jour, il arrêta 
Star-Lord
 pour un petit crime. En 2014, il l'arrêta de nouveau sur
Xandar
ainsi que 
Gamora
, 
Rocket Raccoon
 et 
Groot
. Il les apporta au 
Kyln
 et fit le topo complet de leurs crimes à son
supérieur
. Plus tard, il fut contacté par
Quill
et fut informé de son plan visant à vaincre 
Ronan l'Accusateur
 et ainsi l'empêcher de détruire
Xandar
avec le 
Globe
. Par la suite,
Dey
en informa son 
commandant
 et la convaincu de la sincérité de
Quill
à arrêter
Ronan
. C'est par la suite qu'il assista à la bataille en guidant les troupes depuis la salle de contrôle. Après la bataille, il fut promut au rang de
Denarian
et repartit chez lui pour voir sa famille.
Section heading
Edit
Write the second section of your page here.
Ad blocker interference detected!
Wikia is a free-to-use site that makes money from advertising. We have a modified experience for viewers using ad blockers

Wikia is not accessible if you've made further modifications. Remove the custom ad blocker rule(s) and the page will load as expected.