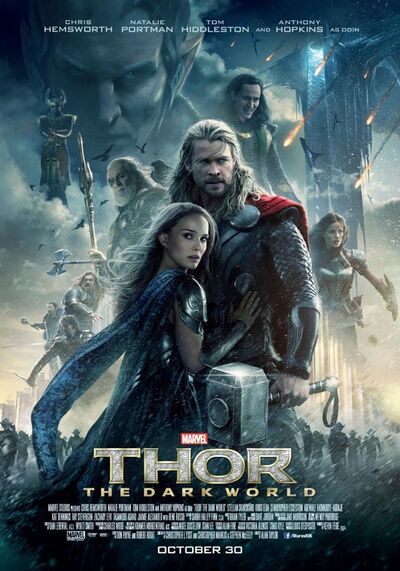 Thor: Un Monde Obscur
 est un film de super-héros américain réalisé par 
Alan Taylor
 et basé sur les bandes dessinées du 
même nom
. Il s'agit du huitième installement de l'
Univers Cinématique Marvel
 ainsi que le deuxième de la 
Phase 2
. Il s'agit d'une suite indirecte au
film
de 2011. Le film est sorti en salles le 8 novembre 2013.
Distribution
Edit
L'histoire commence avec Odin racontant comment son père, Bor, combattit contre les Elfes Noirs. Chaque 5000 ans il y a un évènement cosmique qui alligne les Neufs Royaumes et Malékith, le chef des Elfes Noirs, projète de libérer une relique datant d'avant l'univers appelée L'Éther, dans les Neufs Royaumes. Mais les Asgardiens rappliquèrent, déclenchant une bataille pour L'Éther. Combattant les guerriers tenaces de Malékith, Bor contient L'Éther à l'intérieur d'une colonne de pierre. Tandis que les Asgardiens croient que les Elfes Noirs se sont éteint, Malékith, son lieutenant Algrim et les autres s'échappent en animation suspendue.
De retour au présent à Asgard, Loki se tient devant Odin avec des chaînes. Odin donne à Loki une sentence à vie pour les crimes qu'il a commit. Pendant ce temps à Vanaheim, le royaume natal de son ami Hogun, Thor, aux côtés de Fandral, Volstagg et Sif combattent Les Maraudeurs. C'est la bataille finale d'une guerre de deux ans. Après qu'ils eurent gagnés la bataille, Thor demande à Hogun de rester avec son peuple tandis que les autres retournent à Asgard via le Bifrost, qui fut restauré avec l'énergie du Tesseract. Une fête est organisée pour Thor, pour avoir restauré la paix dans les Neufs Royaumes, mais il quitte rapidement. Il veut demander à Heimdall comment se porte Jane Foster. Le jour suivant Odin prévient Thor qu'il ne devrait pas s'attarder à elle considérant qu'elle mourra bien avant lui.
De retour sur Terre, Jane Foster est à Londres dans un rencart avec un homme nommé Richard, mais alors Darcy Lewis les interrompts, disant que la machine de Jane émet des signaux sonores. Ca n'était jamais arrivé depuis les évènements du Nouveau-Mexique. Ils montent en voiture la où le stagiaire de Darcy, Ian Boothby les attends
Ad blocker interference detected!
Wikia is a free-to-use site that makes money from advertising. We have a modified experience for viewers using ad blockers

Wikia is not accessible if you've made further modifications. Remove the custom ad blocker rule(s) and the page will load as expected.